The Villa Jardin Nomade is like a lush and welcoming oasis at the very gates of Marrakech, the ancestral capital of southern Morocco.
A secret garden of one hectare planted with hundreds of palm trees, orange trees, mandarin trees, date palms, century-old olive trees and thousands of roses conceals a magnificent 450 m2 villa and its outbuildings.
The Villa Jardin Nomade has been designed and built in the middle of this earthly paradise to receive families, friends or small groups of up to 17 people (which can be extended to 36 adults and 9 children thanks to 2 semi-detached villas each with 6 bedrooms and suites).
Luxury and charming villa in marrakech
Villa Jardin Nomade provides its guests with a real hotel service thanks to a team of 6 dedicated, discreet and competent people.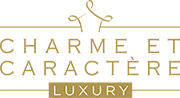 Villa Jardin Nomade is a member of the « Charme & Caractère Luxury » label, which recognizes the best luxury hotels in the world.
A new vision of luxury : Human, responsible, aesthetic, natural, personalized, emotional, refined, equitable and open to the world.
Charme & Caractère Luxury offers a different vision of luxury: a real experience, the feeling of living unique and personalized moments in a charming and characterful property.
We are far from a register that is necessarily expensive, ostentatious or flashy. Luxury here is mainly emotional, human and shared.
Geographical situation
The Villa Jardin Nomade enjoys an exceptional geographical location: On the road to the Lalla Takerkouste dam towards the Atlas Mountains, just 5 minutes by car from the centre of the modern city (Guéliz), the ramparts of the Medina and the airport (without ever being disturbed by planes).
Rent a villa with swimming pool in Marrakech
On 1 hectare of garden, near a golf, a water park and a riding school, the Villa Jardin Nomade offers 4 bedrooms, 1 pavilion, 1 bungalow and a private pool, heated and without vis-à-vis. The villa rates depend on the rental period and the number of rooms rented: 4, 5 or 6 Rooms. Rates include breakfast and airport transfers. Catering is optional: Formula à la carte / Formula liberty (for more information: Download our PDF)
Special Offers
Villa marrakech with Spa
The Villa Jardin Nomade has just equipped itself with a very nice spa with highly qualified staff.
- A traditional hammam
- 2 massage rooms
- 1 body care room: face care, pedicure, manicure, hairdressing...
- 1 rest area
Spa Rates